The Identity of Skipper Plumbthroat
EDIT as of 5/12/2013: DEBUNKED. DEBUNKED HARD. I WILL KEEP THIS POST UNCHANGED FOR POSTERITY BUT IF THIS TURNS OUT TO BE REAL I HIGHLY DOUBT IT NOW.
Who's Skipper Plumbthroat [SP]?
SP is the antagonist in the popular fictional kid show, "The Squiddles," in Homestuck. He is presented as an evil poacher who catches tired squiddles and is essentially the Gargamel of the series.
Why is SP important?
The squiddle characters represent the Horrorterrors, eldritch abominations that live in the void of time and space called the Furthest Ring. They are essentially dark gods, and are lauded as benevolent entities by two characters: Rose and Feferi.
At one point, Rose mentions that someone or something is killing off the horrorterrors, and this causes them the reach out to the players in order to seek aid.
If the Squiddles represent the Horrorterrors, then SP represents their killer.
Well, who is SP?
There was one theory I saw that presented the idea that Eridan (or his ancestor Dualscar) was Skipper Plumbthroat. This is because the last name sounds like "plumthroat," referencing their blood color. Both of them also have a nautical theme (being seadwellers). While there is nothing inherently flawed with this theory, there isn't a whole lot of evidence to back it up. It is important to note for a future point, though.
SP is an entity that can destroy Horrorterrors. There aren't very many characters who would be able to feasibly pull this off. At this point, two pictures might help in making a connection.
Jake's Lord English Skull symbol directly mirrors Rose's Horrorterror Squiddle symbol. This can be seen as two forces diametrically opposed to one another.
At the very least, it hints that Lord English is SP. After all, with his cuestick peg-leg and Cairo overcoat, he certainly looks like a captain of a mighty vessel.
So then, Lord English is SP?
Not quite. My original hypothesis was that Jake was somehow going to be SP, but I found an even better candidate.
It lies in the name: Plumbthroat. The first part, plumb, has a multitude of definitions, but it derives from the Latin term plumbum, which means "lead." More on this in a moment.
The second part, throat, has an obvious anatomical reference, but it also refers to a narrow opening in a vessel, such as the neck (throat) of a bottle.
Wait a minute…bottle? Where have I…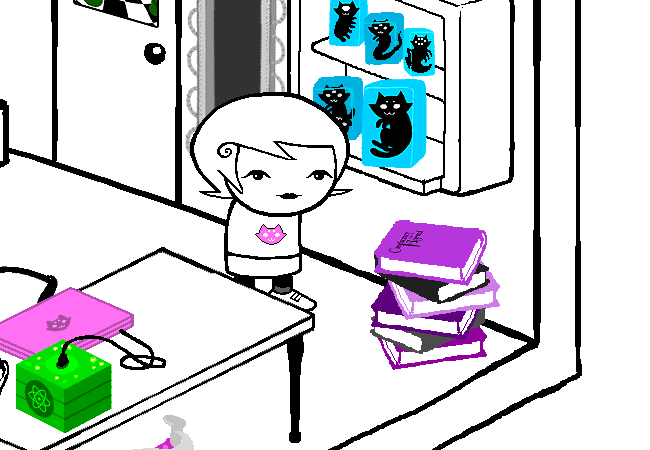 Yes. Roxy. (Fun side note: Message In A Bottle Modus? You mean like the kind normally cast out in large bodies of water? Also notice how the bottles are grey, similar to lead itself.)
Important note: Most wine bottles are corked, and some have screwcaps with protective sleeves called capsules on top of the bottle. These prevented cork weevils and rodents from gnawing on the cork, and these capsules were historically made with lead.
Suddenly, Plumbthroat makes a whole lot of sense.
I mean, Roxy is a Hero of Void, and she's accustomed to travelling through the Furthest Ring already. She also shares one of her specibus allocations with Eridan.
But you know, this still only solves half of the puzzle. After all…
What is a Skipper?
A Skipper is another term for a Captain.
…Wait a tick.